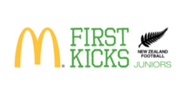 Football Coordination | Protect the City
Suitable for players aged 4-12 years
SETUP
Set up area 20x20m with 4-6 footballs sitting on cones in the middle.
Select a group of 4 players who will become the defenders of the city (Blues).
Reds (Attackers) spread out around the square with 6-8 footballs (missiles) between them.
Place a ball in a "safe zone" in the corners for defenders to use.
HOW TO PLAY
Reds must pass the football past the "Defenders" and try and knock over the city in the middle.
Defenders must block the missiles without entering the city boarder (specify a perimeter that the defenders can not enter, 2-3m diameter).
PROGRESSION
Reds can pass to other attackers to create an angle to send missiles
Defenders can retrieve balls from the safe zone to replace a fallen city building in the middle
Increase missiles or decrease defenders
Increase or decrease the size of the area
OUTCOMES
Compactness in defending
Passing and Shooting
Vision and Awareness