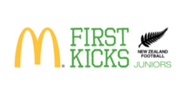 Football Coordination | Show me the Money
Suitable for players aged 4-12 years
SETUP
Area of up to 20x20m. Modify area depending on the age & number of players. Two cones placed 2 metres apart represent "Banks", and are placed on each side of the area.
Divide the players into 2 uneven groups and bib accordingly.
Blues begin with a ball each (1 ball = 1 Dollar).
Place footballs in each corner of the area.
HOW TO PLAY
Reds start practice as defenders, Blues as attackers.
Reds have to steal a ball from a Blue and dribble it to the Bank.
If an attacker loses their ball, they get another one from the piggy banks in one of the corners and re-enter the game.
Keep count of how many dollars the defenders get, then change defenders after 60 seconds.
PROGRESSION
Add one or more defenders
Remove one or more balls so attackers can pass to help retain the ball
Attackers have one ball between the team and attempt to keep possession through passing
OUTCOMES
Awareness and vision of defenders/team mates
Dribbling to protect the ball
Proactive defending / tackling
Turning away from defenders